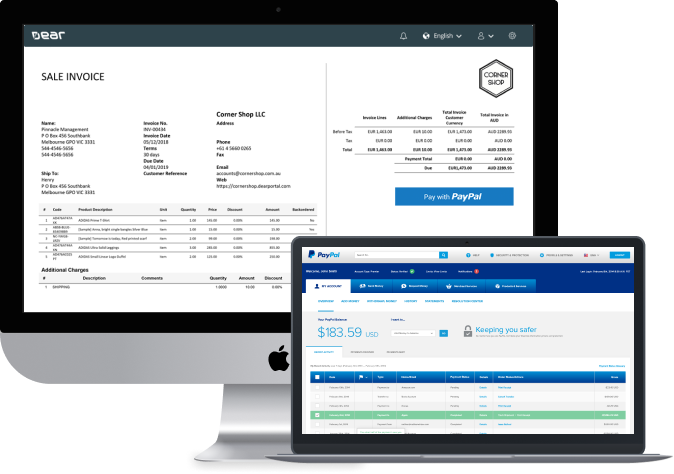 Securely Process Payments with Paypal
Accept payments from anyone, anywhere by integrating PayPal with DEAR. Payment for invoices with PayPal can be saved directly in the system. Users don't have to process payments manually. If your clients are DEAR users as well, they can save invoices directly to their DEAR account with just one click.





Enterprise Level Features

Inventory & Manufacturing


Getting up and running takes mere seconds with our highly intuitive and automated design. Simply connect DEAR to your PayPal account and start collecting payments instantly. Check our video tutorial and information sheet for more details.

Keep your business moving faster than ever with fast generating payable PayPal invoices. Let your customers pay you easily no matter where they are in the world using secure Paypal payments. Free up cash that would otherwise be tied in delayed invoice payments.
Your customers no longer need to contact you for payment options thanks to PayPal. PayPal is available in DEAR B2B portal during checkout process. Getting paid faster has never been easier !
DEAR generates payable electronic invoices using Paypal that are convenient and easy for your customers to make payments. Ensure that invoices are paid in a timely manner and maintain healthy cash flow for your business. Generate new invoices in just a matter of seconds with your branding.
PayPal is one of the largest payment processors in the world. With DEAR, you can choose PayPal together with other payment processors you use for your invoice payments. Invoices can have links to multiple payment processors to allow your customers the greatest flexibility.

CONSOLIDATE YOUR ACCOUNTING
With Xero and Quickbooks integrations, any generated PayPal invoices in DEAR are synced to your accounting application together with the payment. Thanks to DEAR and PayPal you can now eliminate the steps that would otherwise be required to reconcile invoice payments manually with your accounting platform.
All Features Included.
Try DEAR for 14 days, completely free!