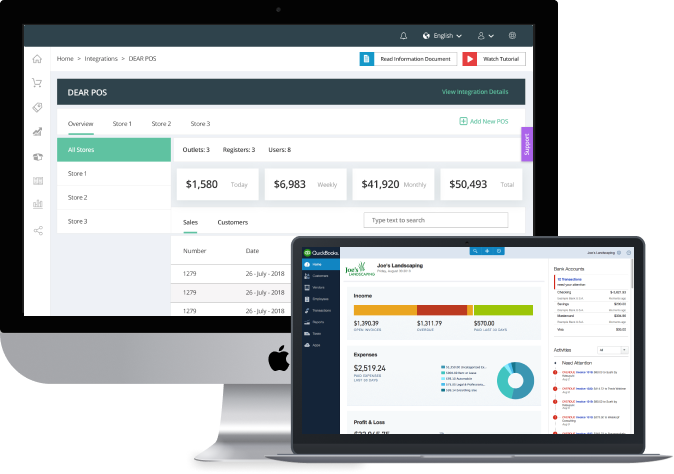 Merge accounting and inventory management with Quickbooks Online.
Simple and affordable, yet feature rich, DEAR Inventory provides you with functionality generally available only to subscribers of Enterprise software packages and will suit small and medium businesses. The power and convenience of Quickbooks Online in your browser allows you to perform keyboard-friendly data entry and navigation. Intuitive screen layouts capture comprehensive purchase and sale processes without the need to navigate across multiple screens.




Vendor Credits / Purchase Credit Notes

Bill Payments / Purchase Payments and Refunds

Credit Memos / Sale Credit Notes


Getting up and running takes mere seconds with this intuitive design. Simply connect DEAR to any QuickBooks Online company you nominate to see relevant ledger accounts seamlessly in real time.

AUTO-UPDATES TO ACCOUNTS RECEIVABLE
We take care of customer transactions too; as soon as you complete a sale in DEAR, we notify QuickBooks Online that your customer owes you money. Stock values are automatically integrated to ensure that your profit reports are always up to date and accurate.
Your contacts list can be synchronized in real time too. Create new customers or suppliers in DEAR and we'll update QuickBooks Online for you.

AUTO-UPDATES TO ACCOUNTS PAYABLE
As you receipt stock, DEAR takes care of the rest. All payable transactions are automatically sent to QuickBooks Online for payment and reconciliation. All costs relating to your purchase are included, whether to a single or multiple suppliers.

Your stock movements are instantly visible to you, right down to Profit and Loss and Balance Sheet levels, as DEAR updates QuickBooks Online in real time.

Instant reconciliation tools help to ensure that all of your DEAR and QuickBooks Online data is matching and up to date at all times to save on needless, time consuming manual reconciliations.

Dear Inventory might win on the user interface. That's what initially got my attention. As I dug in and looked at the features that this solution offers, I realized that this application, when connected with QuickBooks Online, gives you all of the functionality of QuickBooks Enterprise Solutions with advanced inventory. And it actually costs less!
All Features Included.
Try DEAR for 14 days, completely free!